We are in the beginning stages of expanding the Planet Ice business opportunity.
Our goal is to open a few locations before we begin the private labeling process. Until then we welcome sincere individuals interested in opening their own business for themselves, just not by themselves. Enjoy the benefits of our investment in time and money and use it to your advantage!
THE FROZEN DESSERTS BUSINESS
IS A 20 BILLION DOLLAR
INDUSTRY AND GROWING!
The PLANET ICE turnkey support system and full product line works like a franchise, but without the fees and royalties. We provide you with a successful business model, but unlike a franchise allow you the flexibility to add additional items if desired! If you're interested in opening a Planet Ice Dealership, then you should begin your research here. .
How PLANET ICE evolved.
Unlike our solar system, Planet Ice only took about 20 years to evolve into the one stop destination for "THE GALAXY'S BEST TREATS!" Relying on our past experience serving millions of customers a wide assortment of food and treat items we have finely tuned an exceptional menu to offer our customers.
The Planet Ice business model is a fun people business that appeals to a wide consumer base by offering something for everyone; with our main focus on children and young adults.
Planet Ice SIGNATURE TREATS create excitement and enhance the customers overall purchasing experience. See our latest Signature Treat Shave Ice artwork below!
Our Brand and marketing is eye catching and easily recognizable. If you want to compete with the national franchise's you have to have the "look" then back it up with great products and an exciting menu !
We consistently generate the "WOW" factor for creativity, taste, quality and quantity! While offering "Bang'n" items for the younger crowd we still have the time tested traditional items for the mature or classic audience.
If you're exploring the universe looking for a new business opportunity make sure to take a trip to "Brain Freeze and Beyond" and compare Planet Ice to any franchise opportunity.
THE GALAXY'S BEST TREATS just may be your best opportunity!
Here are a few reasons why:
AFFORABLE; Extremely affordable compared to a franchise. HIGH PROFIT STRUCTURE; Many of our most popular items have a food cost of around 10%. Combining our low food costs with no percentages charged like a franchise generates an enormous profit structure which allows for quicker return on investment!
CREATIVE & EXCITING MENU; The menu offers something for everyone! Our Signature Treats are fun, exciting and cutting edge. Capture your local audience and have them coming back time and time again with the ability to offer them over 100 different flavors of Shakes, Smoothies, Slush, and Shave Ice treats! But wait! There's more! Italian Ice, Gelati, Ice Blended Coffee and a full line of Ice Cream products including Mini Melts!
FLEXIBILITY; Enjoy the benefits of a franchise without the hassles, restrictions or royalties! There are numerous additional items that you may desire to add to the base product line. Depending on your location and demographics it may be wise to consider adding or enhancing the Planet Ice menu to serve your local customers. As long as it complements the overall Planet Ice business model we welcome your creativity.
EXPERIENCE; You benefit from our years of experience in the treat market place. We share our knowledge to assist you to run a successful operation.
BRAND NAME; We offer you an established and proven Brand. Your location exterior can be designed for maximum exposure and eye appeal! Planet Ice name and logo is registered with the United States Patent and Trademark Office Reg.#3996386
LOCATION DESIGN & LAYOUT; We can assist you with store design, layout, décor and equipment list.
TRAINING; We can provide you a Planet Ice Operations Manual and hands on training along with phone support.
MARKETING & PROMOTIONAL SUPPORT; We can design a marketing and promotional campaign for your location including your Grand Opening event, coupons and give-a-ways. Your location will be listed on the main website.
PROTECTED TERRITORY; Once your location has been confirmed we can define a protected territory for your location.
PRIVACY; We do not require you to share your sales numbers or ask for a percentage of your sales! It's your hard earned money…keep it all to yourself!
RUN YOUR OWN PLANET; Our name brand is cutting edge, our products are of superior quality, our cost of goods sold is low, our prices are reasonable, our portions are big, customer service is great, and customer response and repeat business is "outa this world"!
TAKE A TRIP TO "BRAIN FREEZE & BEYOND" AT: www.myPLANETice.com
OCEAN CITY, NJ BOARDWALK LOCATION
Get pictures with the PLANET ICE MASCOTS!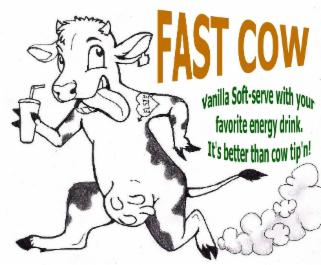 Planet Ice offers Specialty Monster Energy Drink items!
FAST COW, FAST FREEZE or CHERRY BOMB... BanG'n!
Click coupon below to Down Load current
DISCOUNT COUPON!
See you on the Boardwalk!
CLICK on the Shark Attact to watch video
To our Water Ice Fans.. . You got it.. . no worries!
Water Ice made fresh on site daily!